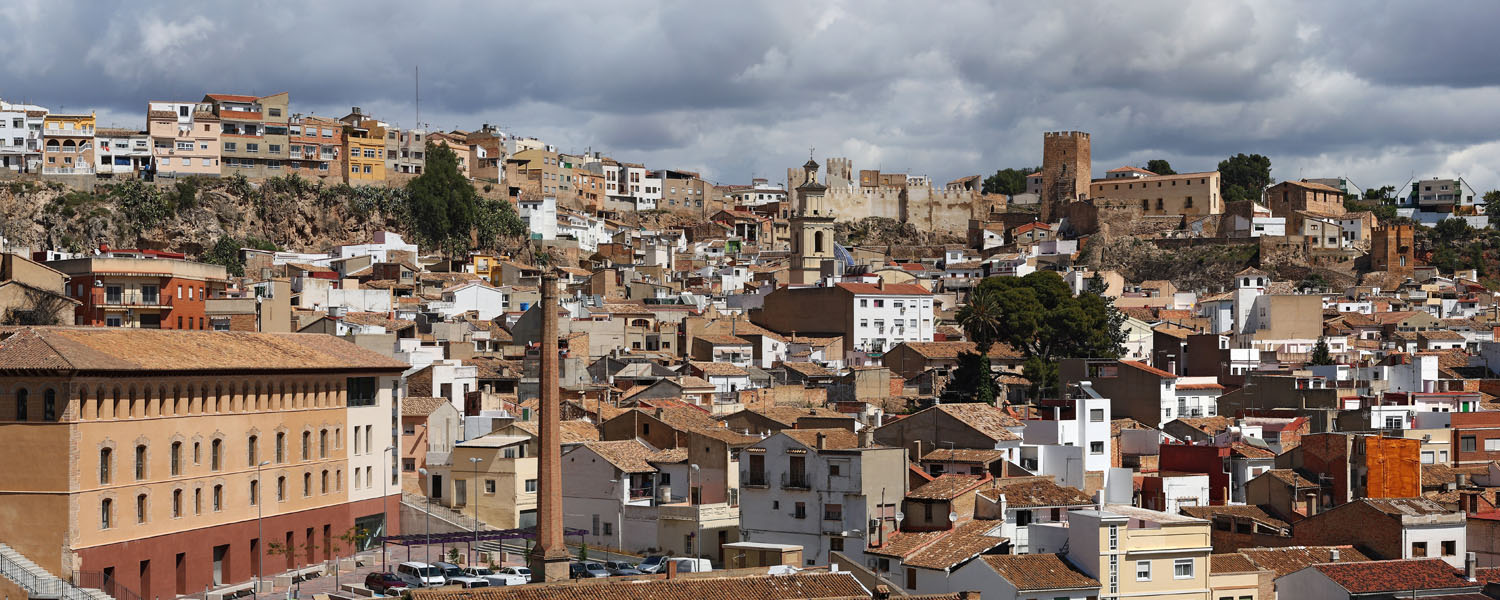 Discover all that Buñol has to teach you.
The geographical situation of Buñol endows it with natural places of great beauty that have water as a common element. In addition, it offers a series of monuments and places of great historical and cultural interest throughout its urban nucleus.
This is Buñol, my friends
Thus, for example, you can visit its spectacular Castle, located on the old border between Valencia and Castile. This building, which dates from the thirteenth century, is formed by two enclosures separated by artificial moats. A first moat separates the military area from the upper town, and the second moat isolates the old residential area, which houses the Gothic Palace (Sala del Oscurico), the Church of the Savior (Ethnological Museum) and the Manor House (Tourist Info and Archaeological Museum).
The urban helmet of Buñol
In addition to its majestic castle, Buñol has an old town full of contrasts where pedestrians can visit architectural sites full of history, such as the San Pedro Church, San Luis Park, Molino Galán or its numerous fountains. The church is located next to the town square (Plaza del Pueblo), the street where the Tomatina Festival is celebrated. Nearby there is the Molino Galán, another of the attractions, an old mill which shows the recent industrial past and now houses the municipal library and exposition halls. Due to its location near the Buñol River, it connects with the Parque Fluvial (River Park) that serves as a recreation area and connects natural environments with cultural areas, such as the San Luis Park, where we find the San Luis Beltrán Hermitage, the spring and the fountain, and the Municipal auditorium.
Buñol offers visitors the opportunity to go deep into nature and places of great beauty, such as the Buñol River, the Juanes River and the Mijares River, or several caves: Cueva Turche, Cueva Alta or Cueva de Carcalín, with a tour full of natural wells of spectacular beauty. Lakes such as La Jarra and Los Peñones, a cave called El Puente Natural, which can be crossed in times of drought and is full of stalactites and stalagmites. Throughout this area, the river is enclosed between large stone walls which lovers of climbing, caving and hiking enjoy. Everything is signposted with maps and posters. On the other hand, the Juanes River forms natural swimming pools, as well as the Cueva de las Palomas and Cueva Turche, where the water falls 60 metres into a lagoon. Finally, the Mijares River is born in an area of important environmental value: El Fresnal, which, as its name indicates, has an important amount of this species (ash) and which together with Las Moratillas and Fuente La Umbria is one of the last redoubts of Mediterranean forest in the Valencian Community. It descends until the village of Mijares, belonging to Buñol, and flows into the river Magro.
A place to discover
What to see in Buñol