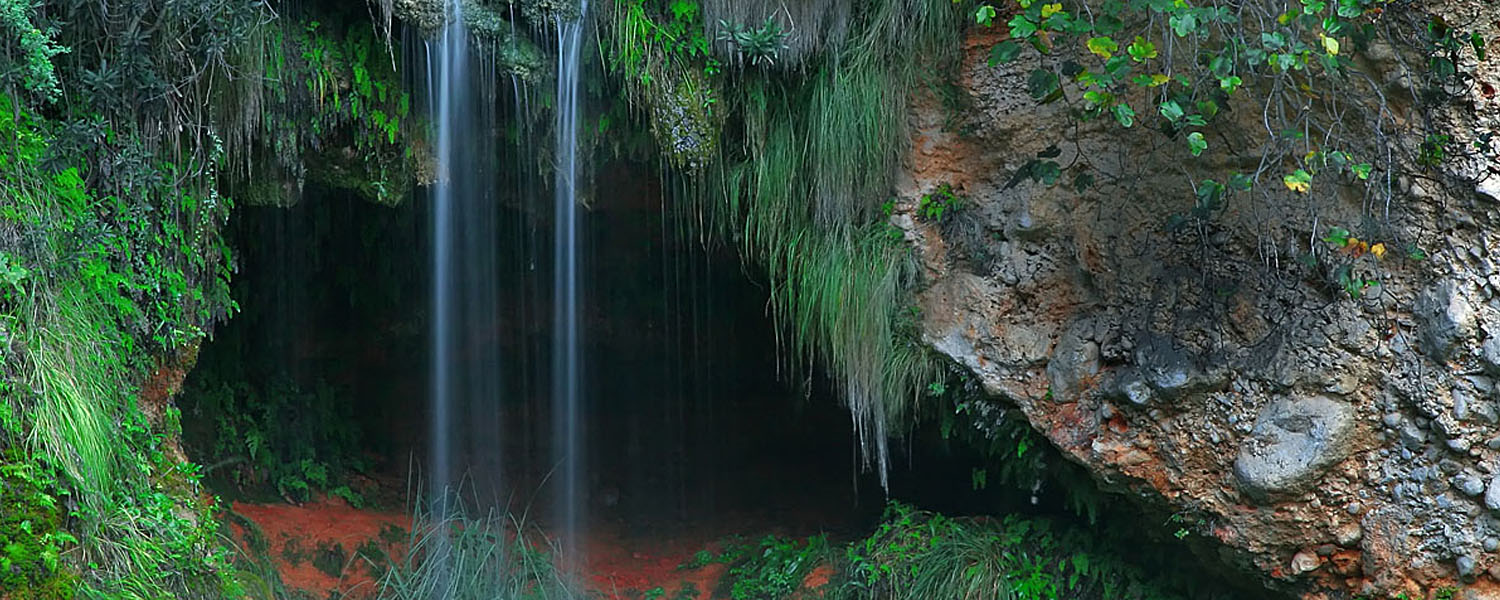 The water and more than twenty sources adorn places, gardens and squares.
The Turche Cave is one of the most interesting natural features of Buñol.
Its lake and waterfall that falls from the top offers an amazing natural spectacle.
It is a geological scenery of great beauty and landscape strength formed by a lake framed in a large rock amphitheater, and it has a picnic area. It is an ideal place to take a refreshing summer bath. At certain times, when it rains heavily, you can enjoy seeing how the waterfall falls from a height of 60 meters. You can access by road Cv-425 to Alborache.
It is a park with a intimate festive tradition in Buñol.
The San Luís promenade is an urban park located at the western end of the town, between the Cuco road and viewpoint and the Buñol river. It is a park with a deep festive tradition in Buñol, as it hosts a lot of events of cultural, social and recreational significance. In a leisurely and refreshing walk through the park, you can see the San Luís Beltrán Hermitage of Neo-Gothic style, remodeled in 1896. Next to it you can admire the waters that emanate from the spring, which is very close to the fountain of San Luis which has four water pipes flowing from the limestone wall. Taking advantage of the rocky headland in the Cuco area, an open-air Municipal Auditorium was built in the second half of the 20th century, where the town's musical concerts are held.
The Planell Park stands out for its size.
It has a large green area, a lake and sports equipment so you can enjoy the most diverse activities in it. Perfect for spending a pleasant afternoon with your family.
The Fluvial Park consists of a pleasant walk through the river bed.
It is a modern park that has allowed the recovery and transformation of the Buñol River bed, connecting San Luis Park to the emblematic building Galán Mill. You can enjoy a green area and even natural pools to swim in.
It has an exuberant vegetation.
Borrunes Park, at the feet of the Castle, is a pleasantly welcoming place, where lush vegetation encourages you to slow down and appreciate the views, producing a pleasant feeling of peace and tranquility in the visitor.
Barranco de Carcalín, La Jarra and Puente Natural
Places of geological and scenic interest.
Starting from the Paseo de San Luis, we take an interesting excursion going upstream through the ravine of the river Buñol known as Carcalín. The first section is suitable for the whole family and arrives at the pools that are known as La Jarra. Then comes a stretch that is more complicated, with a certain amount of risk for those who wish to enjoy it.
Continuing on we reach the mouth of the Natural Bridge, a geological and scenic place of interest. The most fearless can cross it and see the large formations of stalagmites and stalactites.
El Fresnal.
Located about 20km from Buñol, this is considered one of the last remaining examples of what was once the rich and prolific Mediterranean inland scrub. An area of 204 hectares with a humid microclimate, caused by its geological and orographic characteristics, which has allowed it to preserve excellent forests of flora and ash trees accompanied by a rich and diverse shrub layer.
Fuente Umbría and Moratillas.
The Umbria Fountain has a tall fountain of crystal clear waters with exceptional facilities designed for the enjoyment of a nice day out: barbecues, benches, stone tables and wooden seats perfectly arranged. A little further west, you can also enjoy the recreation and camping area of the Moratillas. It is an area of 7.9 hectares converted into a micro-reserve.
La Condesa.
Located next to the road from Buñol to the Collado Umán, we find a recreational area and the Fountain of the Countess: a lush natural landscape with facilities to enjoy a day out in the country.
Río Juanes and Charco Mañán.
Located between Buñol and Yátova is the Juanes River, which is a mountain river. A 2km walk alongside it offers a beautiful variety of colorful landscapes modeled by water erosion.
Its crystalline and sparkling waters will take you to spectacular places such as the Cueva of the Palomas and continue its course through pools and ponds, among which Charco Mañán stands out.